Clun History – Article 5
A Brief History of AI Imports – Michele Stute
When Angus Rouse imported the last live animals in the 1980′s, the flow of genes from the founding flocks of Clun Forest sheep in the UK effectively stopped. No new bloodlines meant that the North American gene pool was not only closed, but also, due to the loss of some larger flocks, declining.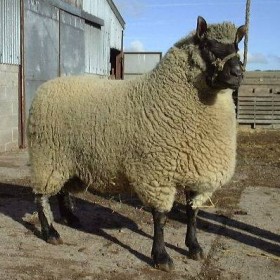 In the mid-1990s a sheep genetics company "Elite Genetics" (no longer in operation) imported semen from two rams in the UK. These rams, Saltersford's Derek, and Pen-Y-Wern's Beater, were the first new Clun Forest genetics in North America in 15 years. Unfortunately, only a few breeders were able to obtain semen from these sires and their effect on the overall Clun gene pool was very limited.
In order to ensure continued genetic diversity and high quality stock within the North American gene pool, several NAFCA breeders got together in the early 2000′s to approach importation of new genetic material in a more systematic way directly from some of the top breeders in the UK and the Netherlands. They looked for rams that had good breeding records and were the best possible examples of the Clun Forest breed.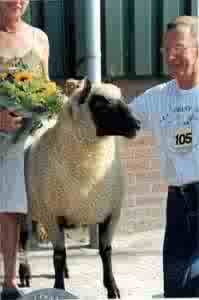 With the great assistance of Gerard Scholtes and the other Dutch breeders, semen from four Netherlands rams was imported in 2004. NACFA members Dugald Brown, Patricia Eastwood, Elizabeth Reedy, and Michele Stute jointly coordinated this importation. The Netherlands rams were from Maedi-Visna certified flocks, were scrapie genotype ARR/ARR, and all were twin born. The group determined that these four rams could best contribute to the North American gene pool based on pedigree, birth type, prolificacy index, production data, and show results. These rams included TBV 071, SAN 125, OWE 227, and FAF 025.
In 2003 and into 2004, Alan Zuschlag of Touchstone Farm, working with Tom Francis of the Guifron flock, arranged for the importation Clun Forest semen from 3 top rams in the UK from the Guifron and Smith flocks. All were proven sires, had excellent conformation, and were ARR/ARR genotype. They represented the finest bloodlines still in existence in the UK. These rams included 00-176, 00-96, and 98-61.
In 2006 Alan Zuschlag worked with Mike Eckley of the famous Court Llaca flock in Wales to import semen from the top ram in the 2006 annual UK Clun Forest ram sale. This ram, Cerney's 207, further strengthened the type and conformation of the Clun breed in North America.
Dr. Martin Dally of Super Sires, Ltd. played an integral part in the success of these imports and we thank him for his efforts. Today the future of the North American gene pool looks secure with the addition of these 10 outstanding rams.